Arcadia's Power Plate Studio
Getting you
fit faster.
Welcome to VibeFit
VibeFit is Arizona's first and best Power Plate Studio speacilaizing in accelerating fitness results for all types of people. Under the guidance of founder Larry Arnold, we bring more than 20 years experience in whole body fitness and vibration training. At VibeFit we use the Power Plate to accelerate your fitness and health results. By combining Larry's experience in fitness & training with the power of vibration training, we are able to accelerate your performance results. We help anyone who is looking to get fit faster and more effciently achieve their potential.
Who has Vibefit worked for?
At VibeFit we have used our training philosophy and Power Plate classes to train athletes from all walks of life. We helped one client lose over 250 pounds, hundreds of clients got to thier most fit & healthy selfs, and we rehabbed hundreds more from a variety of injuries. In addition to these successes, VibeFit has helped dozens of youth, elite, and professional athletes achieve their goals at the highest levels of their sport.
backed by science
–
Power Plate benefits have been studied by respected and established scientists from universities around the world. These studies have shown that workouts using the Power Plate are able to accelerate the fitness and training results. At VibeFit we can get you fit faster.
Burn More Calories
–
No matter what your goals are, we are here to accelerate the results you are looking for. In addition to building strength, improving your cardio, boosting your power, and improving your flexibility; VibeFit Power Plate workouts can burn more calories than traditional workouts.
"Larry & the Power Plate are my 1-2 punch"
Shawn | Ironman triathlete | vibe fit client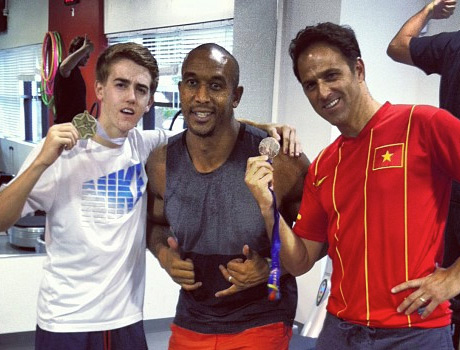 With over 20 years of experience, Larry is recognized as one of the premier personal trainers and experts in fitness, motivation, Power Plates, and nutrition in Phoenix Arizona.
The VibeFit Studio
VibeFit is a Power Plate fitness studio providing classes and personal training to athletes from all walks of life. No matter how big your goal is we can help you achieve it. We are located in the Arcadia neighborhood of Phoenix on the north east corner of 32nd Street and Campbell. Stop by and see how we can help you exceed your goals.
are you ready to be fit faster?
Let's get fit